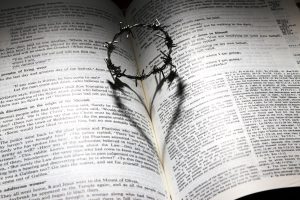 Blessed are those who are persecuted for righteousness' sake, for theirs is the kingdom of heaven (Matthew 5:10).
Jesus kicked off his teaching ministry with blessings.  If he wanted to win converts, what a nice way to start.   Joel Osteen would approve.  Give people a self-esteem boost.  What a fresh alternative to scaring people to death and telling them how to avoid the fire.
But by the time Jesus arrived at this Beatitude, we already see that he had no such simple agenda. We can reduce it to neither a self-esteem boost nor a scare tactic.
Those who do not identify with suffering persecution may assume he addressed someone else.  Maybe they hope to claim the blessings of one or two other Beatitudes, like accepting the promise of comfort as they mourn a loved one's death or the status of God's child as they try to make peace in the family.  Or they write him off as some charismatic nutcase promoting masochism or a victim mentality.
To complicate matters more, those who deserve to identify with this Beatitude do not easily.  Meek, they see themselves as sinners who deserve suffering no less than anyone else.  Poor in spirit, they recognize that anything good about them comes as a gift.  Their hunger and thirst for righteousness presupposes that they don't have it yet.
So who can claim this Beatitude?  The Beatitudes speak hope to pain.  Suffering attunes our ears to hear them.  Hopefully, one facing blatant, undeniable persecution for obedience to God will hear this one with great comfort.
But this Beatitude speaks also to a more common pain.  After surveying your life, counting all your stuff and luck, do you ever ask if this is all there is?  Or do relationships at home, work, and elsewhere ever leave your heart cold or your spirit tired?  Then you know something of this pain.  You suffer the restless numbness of a life too compromised by what you have or by the expectations of others. Amid the superficial comforts you may have with material security and social status, it is really a comfortless life.
This compromised existence results from a compromised view of yourself.  Do you settle for a self defined by your stuff or role? With this Beatitude, Jesus insists that you are better than that.  He refuses to join you in settling for identification with your possessions and position.
By challenging you to discern what you are willing to suffer and die for, this Beatitude challenges you to live and love from the heart. It affirms the real you that you find difficult to affirm yourself.  That is the comfort you are dying to receive.
Willingness to suffer persecution for love sets you free.  And here is more comfort: You need not do it alone.  Jesus calls you to take up your cross and follow him. He walks with you.

Special thanks to Wanda Cantrell for an especially insightful critique of an earlier draft of this post.