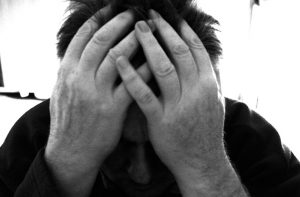 Blessed are those who hunger and thirst for righteousness, for they will be filled (Matthew 5:6).
In the previous post, "Lose the Blues Gap through Self-Compassion," we examined how the discrepancy between one's current state and ideal self becomes a "blues gap" that self-compassion and accepting God's love can close. Today's Beatitude, blessing those who hunger and thirst for righteousness, brings to mind a more formidable obstacle to restoring life from depression: deep despair, surrender to hopelessness.
The danger of this despair comes from its seductive draw. The exhaustion of tears coaxes one into withdrawal from everyday tasks, meaningful work, relationships, even life itself. Believing that the ascent from the watery abyss takes herculean energy while one feels utterly spent, drowning in despair starts to look comforting.
Self-help gurus like to publish, "Happiness is a choice!" While that message carries precious truth, the glib delivery falsifies it. The worst pain imaginable drives one into such depths. Such pervasive pain cancels the capacity to step back and discern which walls of the trap are real and which imagined. Hopelessness seems utterly realistic. To tell someone in that predicament, "You can choose to be happy, you know," only mocks them, closing another window.
Yet, emerging from this abyss does require an existential choice for life with no clear way or reward in sight. You decide that is who you are, one who chooses life, one who has faith in a promise of love although you feel unworthy and can't quite believe in love even if it runs up to you and kisses you on the lips. Whatever I have learned about therapeutic techniques through professional education and experience, that choice for life always comes as a miracle.
However, you can prepare for it. If you love someone snagged in this downward draw, you can patiently listen, not rushing to fix, but occasionally raising the possibility that this wall or that obstacle may not be insurmountable or even real. Invite the person for a walk or to assist in a task. Ask them to do it for you at first, and observe how their energy rises with the engagement. But don't push. Just invite and listen even when you listen to silence.
If you are depressed, don't wait to want to do anything or have contact with people. Small engagements in spite of yourself will slowly recharge your battery. It will feel like lifting a ton at first, but your body on the couch or in the bed feels like that too. Find one thing to be grateful for today, two tomorrow if you can, and thank someone if you can…God, if you're up to praying.
In case you haven't guessed, I've been there. I count the miraculous choice a discovery of my hunger and thirst for righteousness, for right relationship, something I wanted more than comfort. It was a choice to still be standing and ready to step up when love comes. It came.