Blessed are those who hunger and thirst for righteousness' sake, for they will be filled (Matthew 5:6).
A subscriber to this blog, Patty Hunter, recently introduced me to Emanuel Woods. When he and her son wrestled for Rome High School, she met the looming heavyweight.  Raised by a devoted single mother, Emanuel overflows with gratitude for her love and the guidance of many mentors.  He attributes it all to God and gives back in a life of ministry, supporting underprivileged youth.  After working in an inner city sports camp and an adolescent psychiatric hospital, he recently took a position directing the high school arm of a growing tutoring program in Opelousas, Louisiana, where 44% live in poverty.  Leading Bible studies brings the Spirit to the work.  (Learn more at http://www.gofundme.com/c7ewe8.)
A busy man, Emanuel confesses to "running on empty spiritually of late," but found high-octane fuel in Jesus' blessing of those who "hunger and thirst for righteousness' sake," with an assist from Psalm 119:33-40, which concludes, "See, I have longed for your precepts; in your righteousness give me life" (v.40). Emanuel's takeaway: "It's easy to go through the motions, but praise Jesus for the Holy Spirit that creates that hunger and thirst inside of us."
What a faithful response to the inner dryness! All disciples know the feeling – or lack thereof — whatever their call.  Mother Teresa faced that dryness for the last three decades of her ministry, but like Emanuel, she used it for faithfulness rather than letting it use her up.  St. John of the Cross, in his spiritual classic, The Dark Night of the Soul, counseled that the dryness may result from God clearing away of the stuff in our heads that blocks the Spirit from filling our hearts.  Recognizing the dryness for what it is – space through which the Spirit will blow – converts it to hope.
Speaking of the Spirit, Emanuel, Teresa, John, you, and I participate in a great cosmic hunger and thirst of which Paul wrote:
For the creation waits with eager longing for the revealing of the children of God; for the creation was subjected to futility, not of its own will but by the will of the one who subjected it, in hope that the creation itself will be set free from its bondage to decay and will obtain the freedom of the glory of the children of God. We know that the whole creation has been groaning in labor pains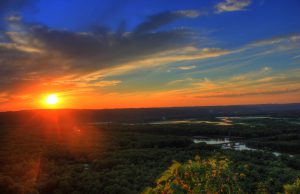 until now; and not only the creation, but we ourselves, who have the first fruits of the Spirit, groan inwardly while we wait for adoption, the redemption of our bodies (Romans 8:19-23).
So if you find yourself running on empty spiritually and you want the energy that comes when the Spirit fills you, look around at the trees, sunsets, stones, and squirrels along with every human friend and stranger. They hunger and thirst with you.  What can you do but love them?  Share the longing, and you will be filled.