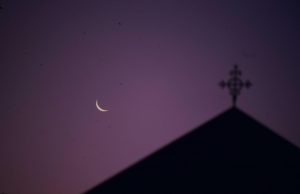 Blessed are those who mourn, for they will be comforted (Matthew 5:4).
On an earnest quest for the true self, mystery inevitably strikes us. Psalm 139 expresses this breathlessly:
I praise you, for I am fearfully and wonderfully made. Wonderful are your works; that I know very well.
My frame was not hidden from you, when I was being made in secret, intricately woven in the depths of the earth.
Your eyes beheld my unformed substance. In your book were written all the days that were formed for me, when none of them as yet existed.
How weighty to me are your thoughts, O God! How vast is the sum of them! (vv. 14-17)
With trembling joy, the psalm sings the oceanic sense of self with God. If you know something of this sacred experience, you find yourself at least occasionally searching your life's contours for intimations of deep calling to deep, God beckoning your soul.
Once at 16, I ran on the beach for miles between storms with surf roaring, light glistening on sea and sound, wind whipping, dark clouds rolling, and my bare chest throbbing with life and strength. I knew myself with God in joy.
But life's struggles revealed another side that Psalm 139 intimates:
If I say, "Surely the darkness shall cover me, and the light around me become night," even the darkness is not dark to you; the night is as bright as the day, for darkness is as light to you (vv.11-12).
The mystery of the true self with God includes sharing God's night vision amid loss and pain. Then, if only in glimpses, we see in the mirror less dimly, more face-to-face with ourselves and God. Oceanic experience and mystical rapture require acquaintance with sorrow and confrontation with death, even God's in Christ.  Julian of Norwich's mystical promise that all will be well only came with excruciatingly empathetic visions of Christ's agony on the cross.
Where can I go from your spirit? Or where can I flee from your presence?
If I ascend to heaven, you are there; if I make my bed in Sheol, you are there.
If I take the wings of the morning and settle at the farthest limits of the sea,
even there your hand shall lead me, and your right hand shall hold me fast (vv.7-10).
What beautiful wonder at the infinite expanse of God's loving presence! But more wonderful still is the mystery of God's loving presence and action amid godforsaken suffering.
Then Jesus gave a loud cry and breathed his last…Now when the centurion, who stood facing him, saw that in this way he breathed his last, he said, "Truly this man was God's Son!" (Mark 15:37, 39)
We err if we see this bloody epiphany as a discrete event, wholly separate from our experience of grief and pain. For as we face suffering, even our own in a mirror dimly, then terrified and wonder struck, we see Christ face-to-face.