Airman Philip M. Jenkins: The Thing That Makes His Father Proud
Blessed are the meek, for they will inherit the earth (Matthew 5:5).
On November 9-10, 2017, I attended final ceremonies to mark the successful completion of basic training by 662 young men and women at Lackland Air Force Base in San Antonio, Texas. One of them, my son, Philip Marshall Jenkins, played the trumpet among the 321st Training Squadron Warthogs.
Before the airmen's run on the chilly morning of the 9th, a sergeant told the crowd of family members not to fret if we don't see our child because, "We all look alike here." They dressed the same, marched the same, sang yodies in sync, and wore the same sober, focused facial expression.  The young men were bald, and the young women wore their hair up in tight buns. His mother, girlfriend, and I recognized Philip nevertheless because he is a longer string bean than most.
They should look the same, of course, because the grueling physical challenges, niggling attention to details, long marches, and enforced tedium wrest their young egos away. They learn to identify with the squadron, the Air Force, and the whole military above their own fledgling identities. Basic training is, in a word, a school of humility.
We moderns forget another school of humility that shaped our culture and outlook more than we realize: the monastery. Christian monasteries overcame early instability and unruliness with the adoption of The Rule of St. Benedict in the 6th Century. The Rule's seventh chapter on humility is a classic within the classic. It teaches stages in the development of humility such as awareness of God's attention at all times, obedience to the abbot (spiritual leader), confession of sins, willingness to live with poverty, discomforts, and even unfairness, controlling the tongue, and keeping a dignified, gentle demeanor.
Except perhaps for the gentle part, it sounds a lot like basic training.
I am exceedingly proud of my son for his accomplishment. That pride swelled in my heart not during the ceremonies as much as in a conversation at lunch. We ate at a food court on the base, and as he described his life in the dorm under the watchful eye of the Military Training Instructor (MTI), he mentioned that he not only felt the heat from the MTI for his mistakes but for those of others as well.
This sounded like he did a little more than blend in.
A few moments later as we walked out of the mini-mall, another new airman walked with his family toward the food court, and he and Philip greeted with warm, mischievous grins. Then out of the corner of my eye, I saw the airman smile at his parents as he said, "Jenkins is our dorm chief."
So I asked Philip what that meant. He answered, "When guys get tired and unruly, I tell them we came here to make it in the Air Force, so we'd better pull together. That's just important to me. And they come to their senses."
Then he resumed talking like an 18 year old as his girlfriend, Maddie, giggled.
I'm very proud of him for rising to the role of dorm chief, yes, but more so for the humility with which he almost didn't tell us. I'm not sure he realizes that he is a leader. The humble do not get to be proud of their humility, but their fathers do. And I am.
Thanks to Philip's mother, Sharon Bassett Jenkins, for the excellent photographs.
Related Post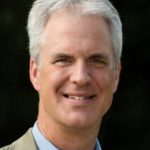 About J. Marshall Jenkins
J. Marshall Jenkins is an author, psychotherapist, teacher, and spiritual director. For several years he has been writing on the Beatitudes for people in emotional pain, publishing biweekly here on his Beatitudes Blog at http://www.jmarshalljenkins.com. His newest book, Blessed at the Broken Places: Reclaiming Faith and Hope with the Beatitudes, is now available through Amazon and Barnes & Noble.